Shadow Tracker® Maps
Shadow Tracker® supports real time tracking, and allow for the customization of any fleet type. Our system allows segmentation by areas for different regional group or unit type.
GPS Tracking Maps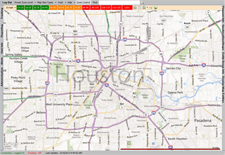 Map View
Managers have the ability to accurately track their fleet vehicles anytime, anywhere using state of the art satellite imagery, actual address locations, and in-depth traffic reporting. Any zoom level you choose offers a clear perspective of your fleet location and the current status of vehicles.
Historical Track
Our 10 Second update allows for a Street level map view with our patented color-coded route by speed that no one else can offer. For quick detailed information on your fleet, vehicle detail balloons will expand on rollover offering you current address, vehicle speed, heading, and more.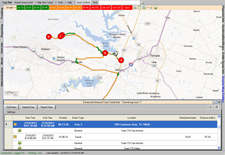 Enhanced Historical Tracking
The Enhanced Historical Tracking Grid allows a user to view the map along with travel information in a text format. Other features include a Speed Chart that displays speed range and a Report View where a report along with a map image of the route driven can be viewed, exported, or printed.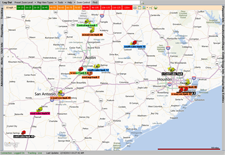 Zoom to all Units
The Zoom to Fleet feature for our real-time tracking units displays the current location of an entire fleet, helping managers to quickly assess where vehicles are and where they should be.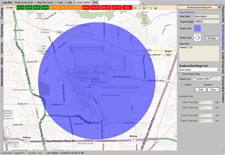 GeoFence
Define specific areas or zones and easily identify all activity in and outside of selected zones. This allows you to easily pinpoint vehicles that consistently violate boundaries or view detailed reports to identify time spent at each job site.